Looking for fun places to go with the family during December? We'll be featuring local activities (recommended by Grace families!) throughout the month! Today's spotlight: The holiday show at the Walnut Creek Model Railroad Society, and the Christmas Fantasy Merry-Go-Round at Tilden Regional Park!

Walnut Creek Model Railroad Society – Holiday Show
If you have a little one who loves trains, here is a great place to come get lost for an hour! The Walnut Creek Model Railroad Society (WCMRS) operates the Diablo Valley Lines (DVL) model railroad, one of the most mountainous and one of the largest exclusively HO scale model railroads in the United States. They have platforms the perfect size for kids to step up and get a closer look at the minature railroad towns and the multiple rail lines that run through them. There is also a snack bar, so you can enjoy a hot cocoa while you watch the trains roll by.

Open on Friday, Dec. 27 from 8 – 10 pm
Admission: Children under 6 (free), Ages 6 – 12 ($2.00), Adults ($3.00)
2751 Buena Vista Ave., Walnut Creek
Christmas Fantasy Merry-Go-Round at Tilden Park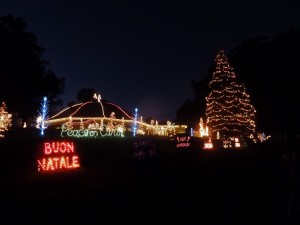 Tilden's Herschell-Spillman Merry-Go-Round is an antique menagerie carousel with hand-carved and beautifully painted wooden carousel animals to ride as the calliope plays festive music. The park decorates the ride for the holiday season, and it's open nightly (weather permitting) through Dec. 23, from 5:30 – 8:30 pm.
Admission: $2.00/ride, or $10.00 for 7 rides.
Tilden Regional Park park is located in the Berkeley hills just north of Highway 24–take the Fish Ranch Road exit east of the Caldecott Tunnel, drive uphill, and turn right at Grizzly Peak Blvd. From Grizzly Peak, you will pass the Shasta Road entrance, with access to the Merry-Go-Round.