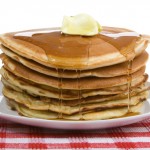 Do you feel that excitement in the air? "Kids In Space!", our annual preschool pancake breakfast fundraiser, is almost here!
Check out our classroom! As the money from ticket sales comes in, the amount on our interstellar tracking poster goes up and up! If you need additional tickets, don't forget there are extras in the box in the snack closet (just remember to sign out what you've taken!). All ticket stubs and money are due to your class reps on Thursday, Jan. 30. And don't forget – the top seller from each class wins a playdate with one of our teachers!
Families have begun to bring in their kids' silhouettes and solar systems, and they are brightening up the windows of our school. All silhouettes and solar systems are due on Jan 31. Have fun with them – the children's artwork is always a highlight of the morning!
And it's time to get psyched for the evening decorating parties! On Thursday, Feb. 6 and Friday, Feb. 7, from 6:30 – 9:30 pm, we will be setting up the Oak Room and transforming it into the best looking room in the galaxy! A reminder that these two evenings are adults only, so our little ones will need to stay home. The decorating parties are always a fun time to hang out with fellow preschool parents, and a sneak peek at all the final decorations before the big day!
Saturday, Feb. 8 will be here before we know it! Thank you again to all the time and positive energy you have put into creating this event! It is a true community effort, and both our school and our children benefit from all of your teamwork and collaboration.
Less than 2 weeks to lift off! And 3…2…1…Here we go!