October at Grace is a bunch of fun
The weather is nice and we play in the sun
We sing about pumpkins that roll to town
and carve jack o'lanterns that smile and frown
Kids switch costume ideas about 200 times
and at Circle Time we learn Halloween rhymes:
'bat' and 'cat'/'night' and 'light'
'orange' and…um….ok, we'll come back to that one.
This is always a neat month at Grace. The kids have had a chance to settle in to their new classes and are getting to know each other and their teachers. The co-op routine is becoming more familiar to our new families. The weather is still beautiful enough to enjoy lots of fun outside during the school day. And we have two big events to look forward to: Pumpkin Day and the Halloween Costume Parade!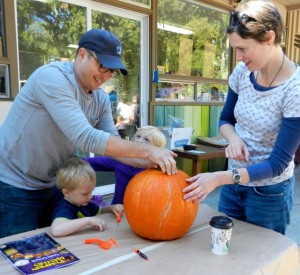 Pumpkin Day (Oct. 25, 9:30 – 11:30 am) is a great way to spend a Saturday morning with other Grace families and enjoy their company while your kids get the fun of carving pumpkins, showing off their finished jack o' lanterns, and playing with their friends at school on a non-school day. It's a fun day to include other family members as well, and a neat way to show off the school to grandparents or cousins – the more the merrier!
The Halloween Costume Parade (T/Th 2s and 3s & M-Th: Oct. 30, MWF: Oct. 31) is always a fun event too. The children put on their costumes and get the chance to march around Grace and say hello to the adults in the church office, finishing up with a fun sing-a-long session with Lavenia for the morning classes and Halloween activities for the M-Th class. Family members are invited to come to the parade and cheer on all the fairies, superheroes and monkeys (and grab some adorable photos), as well as to join in the singing. (And family members are invited to dress up too!)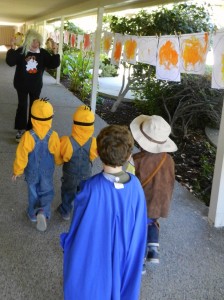 One other October event to look forward to is our first Parent Meeting of the school year! (Oct. 9, 6:45 – 9 pm) The Parent Meetings are an important part of the co-op experience. They are a good way to find out what's going on at school, as well as an opportunity to hear speakers present on educational topics relevant to pre-school parents.
I look forward to seeing you at these events and around the school! Happy October!
– Frith O'Steen, Board President