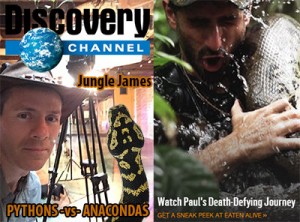 We are excited to announce that one of our Grace Co-op parents, Jungle James, will be featured on the Discovery Channel 
this Sunday
 at 
9:00pm
 (check your local listings).  He is hosting a special segment highlighting the differences between Pythons and Anacondas during the Discovery Mega Week presentation of Eaten Alive (featuring a man's quest to be swallowed by an Anaconda). Not sure how toddler-friendly "Eaten Alive" will be, so parental supervision is definitely recommended should you choose to watch it, but the Jungle James segment is safe and educational for the young ones! Also, for more Jungle James animal entertainment, be sure to tune in to to the Jungle James Adventure YouTube channel and check out their awesome series on reptiles of the Southwest.  
https://www.youtube.com/user/junglejamesadventure/
And don't forget:  on 
January 9, 2015 at 6:30 p.m
, Grace will be hosting a special fundraising performance by Jungle James featuring insects, amphibians, reptiles, and possibly even some of the pythons featured on his Discovery Channel show.  Tickets are still available for $20.  Grace students, family, friends, and alumni are all welcome.