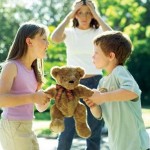 Grace Cooperative Preschool is proud to host a free Parent Education Night, on Thursday November 13 at 7 pm! Featuring guest speaker Nancy Parry, "Time Out, Time In: Just Give Me Something That Works!" is a lively presentation that discusses discipline approaches which promote self-control for young children that last a lifetime. Strategies covered will include helping children manage their social interactions with friends and siblings, as well as developing more cooperative between parents and children. The presentation will be followed by a Q & A session – parents of young children are invited to come and share their experiences!
Location:
Grace Presbyterian Church (Oak Room)
2100 Tice Valley Blvd., Walnut Creek
For questions, please contact 925-421-0150
About Our Presenter:
Nancy Parry was a Co-Director and teacher at Lafayette Nursery School for 30 years, and is a mother of three and a grandmother. She currently works as a Parent Educator with Acalanes Adult Education, teaching parenting classes for parents and their two and three year old children. Nancy also serves as a parent coach/parenting consultant.
This event is sponsored by the Diablo Area Council of the CA Council of Parent Participation Nursery Schools. The DAC is an organization composed of local cooperative preschools, developed to support parent participation education.