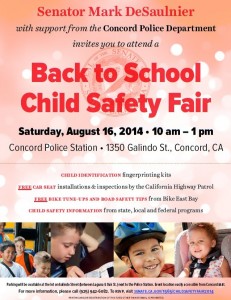 A "Back to School Child Safety Fair" is scheduled in Concord this Saturday — Aug. 16 — from 10 AM to 1 PM.
The event is free and open to the public, and will take place at the Concord Police Station, 1350 Galindo Street, in Concord.
It is being hosted by Senator Mark DeSaulnier (D-Concord) in partnership with the California Highway Patrol and with the support of the City of Concord Police Department.
Free services available at the fair will include child identification fingerprinting kits, car seat installations and inspections by the CHP, bike tune-ups as well as road safety tips from Bike East Bay, and child safety information from more than 25 non-profit and government agencies.
Parents, kids and families are welcome to attend. No reservations are necessary and many services will be available in English and Spanish.
Event parking will be available at the lot on Galindo Street next to the Police Station.
Event location is easily accessible from Concord BART.