The last two months have been busy ones at Grace! At the beginning of February, we greeted the groundhog … learning about Punxsutawney Phil, making groundhog stick puppets, and then going outside on the sport court to trace our shadows.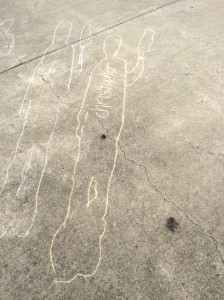 Shortly thereafter, we celebrated Valentine's Day with our friends! The children enjoyed distributing Valentines to the "mailbags" for their classmates and teachers. We also studied the Lunar New Year. The children learned about different traditions associated with the holiday; artwork emphasized the importance of the color red, with lots of dragon faces on display! The celebration culminated in a class parade around the courtyard. The children took turns in the dragon costume, and noisemakers were distributed and used with enthusiasm. The teachers even put out bubble wrap for the students to stomp on, to simulate firecrackers.
Finally, the month of February culminated in the 26th annual Pancake Breakfast fundraiser. This is always a fun event, and this year was no different. Throughout the course of the morning, as families arrived for their volunteer shifts, it was amazing to watch the children's eyes light up as they entered the Oak Room, which had been transformed (over the course of the two evenings prior, and with the help of all the families at the preschool) into a celebration of all things "Up in the Air." The themed artwork completed by the preschoolers over the preceding month covered just about every square inch of the walls, and you could see the kids scanning the room for their masterpieces and excitedly pointing them out to friends and relatives once they'd been spotted! The food was delicious (as always), the weather cooperated, and the community turnout was wonderful.
As we entered the month of March, the unit of study shifted to "growing things." Children planted wheatgrass and vegetables, carefully watering and checking them each day they came to school. The joy that lit up their faces when the first shoots emerged from the soil was palpable! They will continue to track the growth in the upcoming weeks. Two other popular Grace traditions were celebrated this month — Saturday School and Pajama Day. Saturday School is a chance for the non-cooping parent to experience a typical school day, but at a time more convenient to those with Monday-Friday, 9-5 work schedules. The children were so proud to spend a Saturday morning showing their "other" (read: not the usual co-oper) parent around the school. Pajama Day was also a success — what's not to like about coming to school in cozy pajamas?
After a week-long Spring Break, April is underway, and classes will resume. It will be exciting to see what the last two months of school have in store!